Meet Honeywell Forge for Cybersecurity: A Powerful Enterprise Solution In One Portal
Simplify, Strengthen and Secure Industrial Cybersecurity Across Your Enterprise
Honeywell Forge for Cybersecurity improves cybersecurity performance - at a single site or across multiple sites—by increasing visibility into vulnerabilities and cyber threats, enabling proactive action to mitigate risks and improving cybersecurity management efficiency.
Honeywell Forge Cybersecurity Platform (Enterprise Premium)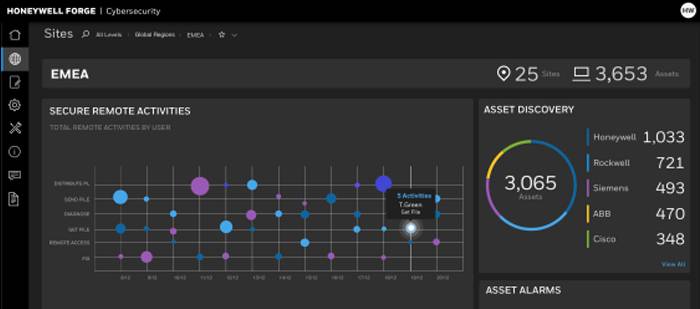 For companies seeking to take full advantage of Honeywell's latest cybersecurity innovations, Enterprise Premium can be applied in addition to Enterprise Core, providing asset security management capabilities across multiple sites. Modules in the Enterprise Premium offering include:
Asset Discovery and Inventory
Asset Monitoring and Alerting
Software Patch and Antivirus (AV) Management
Risk and Compliance Management
Request More Info
Secure Media Exchange (SMX)
Secure Media Exchange reduces cyber security risk and limits operational disruptions by monitoring, protecting, and logging use of removable media throughout industrial facilities. SMX provides easy-to-use security for safe, productive use of removable media in industrial networks.
Request More Info
Security Consulting Services
Security Consulting Services help companies rapidly engage cyber security expertise, knowledge and training without the need for in-house hiring, allowing companies to focus their valuable resources on innovation to drive business results while ensuring compliancy and avoiding production loss. Delivered by experts in both operational technology (OT) and information technology (IT), Honeywell's new Security Consulting Services offer innovative design and field proven implementation of critical industrial cyber security work to enable businesses to safely implement digital transformation strategies and the Industrial Internet of Things (IIoT).
Request More Info